Canteen Volunteers
The Canteen Volunteer roster is up and running and Volunteers are needed. If parents would like to volunteer please contact Virginia in the Canteen on 4922 8346 or canteen@bcc.nsw.edu.au.
Online Ordering System
Our Canteen now uses a new improved online ordering system called MunchMonitor. For the remainder of the year purchases will be online and EFTPOS only, there will be no cash purchases.
Orders need to be placed by 9.15am.
Using MunchMonitor Online Ordering
~ You can place orders online up to 4 weeks in advance
~ Top-up your account online using VISA/MasterCard
~ List allergies to alert canteen staff
~ You can order anytime you want using web browsers such as Chrome or Safari on your desktop, laptop, tablet or smart phone.
~ No sign-up fee
~ No transaction fee
~ Give your children Snack Money Allowance, Daily Allowance
~ Ban food items from the menu
~ View what your child has ordered
Snack Money is a daily or weekly allowance you set for each Student on your account. This will allow your child to purchase at the canteen window without using cash. Your child can spend up to the dollar amount you enter in their Student Profile and only on the days of the week you specify. Snack Money is a "cashless" way of purchasing at the canteen window during recess and lunch.
It only costs $ 3.65 (inc. GST) per school term for a family account. However for this term only, the fee will be waived.
If you held an account with our former online ordering system, School24, we are able to transfer the balance of this account over to MunchMonitor. Please register with MunchMonitor and then email canteen@bcc.nsw.edu.au with your name, your eldest child's name and class and your email address used for your MunchMonitor registration.
Register now with our new Online Ordering System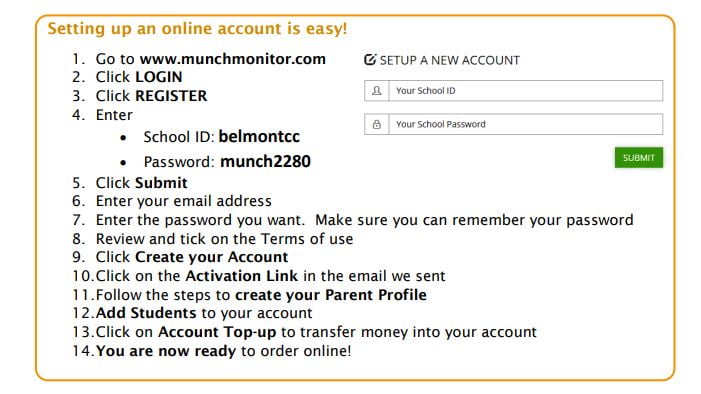 If you require further assistance call Munch Monitor on 1300 796 190 or email at help@munchmonitor.com. Our Canteen staff are also happy to help and can contacted on 4922 8346 or canteen@bcc.nsw.edu.au.