Welcome to Kindergarten
Our teachers are passionate about educating young children and our desire as a College is to foster a love of life-long learning in each of our students.
Fostering a love of life-long learning
Hear from our Head of Primary, Mrs Leoni McNeill 
One of our goals at the College, under the direction of caring and highly qualified Christian teaching staff, is that your child develops strong literacy and numeracy skills from the very foundational stages of learning. 
Your child will be provided many opportunities to work in teams, explore new ideas and be exposed to the latest technologies, as well as a myriad of creative arts and sporting opportunities. 
Our lessons are based on strong Biblical foundations that are woven throughout the curriculum in each of the Key Learning Areas. Together, we want your child to know how loved they are by their Heavenly Father. 
A window into Kindergarten at BCC
Our Kindergarten classes are safe, warm and engaging places where children flourish in their learning. Our teachers are passionate and work hard to create environments that are conducive to growing and learning. 
Key Learning Areas
Throughout Kindergarten, your child will be exposed to a wide variety of different learning areas and staff expertise.
Our Kindergarten teachers use a range of teaching strategies to engage your child in learning. This includes whole class, small group, and independent activities, along with learning through play and investigation.
Once a week on alternating afternoons, your child will also engage in Primary school Assemblies and Rise Up, our Christian studies program for all of Primary school. These are fantastic times of fellowship and encouragement which provide our younger students opportunities to learn from our BCC student leaders.
Your child's classroom teacher will lead learning across the following areas:
In addition, throughout a normal week of Kindergarten at the College, your child will enjoy learning alongside specialist teachers in the areas of:

Literacy in Kindergarten
Learning to read and write form a critical part of the Kindergarten program at BCC.
Our aim is for our students to develop a love of books and to understand how reading can open up a whole new world of information and enjoyment.
Strong literacy skills provide your child with access to a variety of different learning experiences. At BCC, we engage in an extensive and very successful phonics program, developed by Light Educational Ministries (LEM).*
*Our approach to Literacy at BCC is strongly supported by research conducted by the NSW Government. Centre for Education Statistics and Evaluation, 'What works best: Evidence-based practices to help improve NSW student performance', 2. Explicit Teaching, pg 9-10.
Interested in finding out more?
Meet our Kindy teachers in 2021
Our amazing Kindy team love teaching at BCC!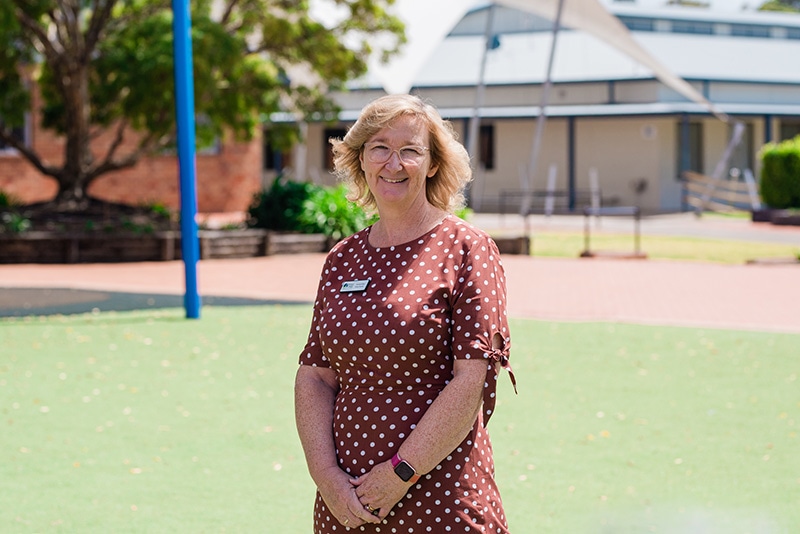 Mrs Sue Fryer
Diploma in Teaching – Early Childhood
What is Mrs Fryer's favourite part about teaching Kindergarten?
"I love watching the progress of our little people from the beginning of Kinder to the end. They grow so much in their learning but also in their interactions with their peers and understanding of the world around them. I love helping our students to understand how much their Heavenly Father loves them and how precious and special they are."
What does Mrs Fryer like to do in her spare time?
"In my spare time I love spending time with my granddaughter Polly. Being a Nanny is the best thing ever!"
Mrs Emma Urane
Bachelor Of Education – Primary Teaching
What is Mrs Urane's favourite part about teaching Kindergarten?
"There's nothing quite like experiencing the joy and excitement a Kindy student exudes when they begin to read and write for the first time! Facilitating the process of children becoming learners who are filled with curiosity and wonder and confidence is such a joy. I absolutely love that I get to help children to discover and grow in the gifts and skills that God has placed inside of them."
What does Mrs Urane like to do in her spare time?
"I love spending as much quality time with my family as I can. I also love reading and planning holidays and special family events."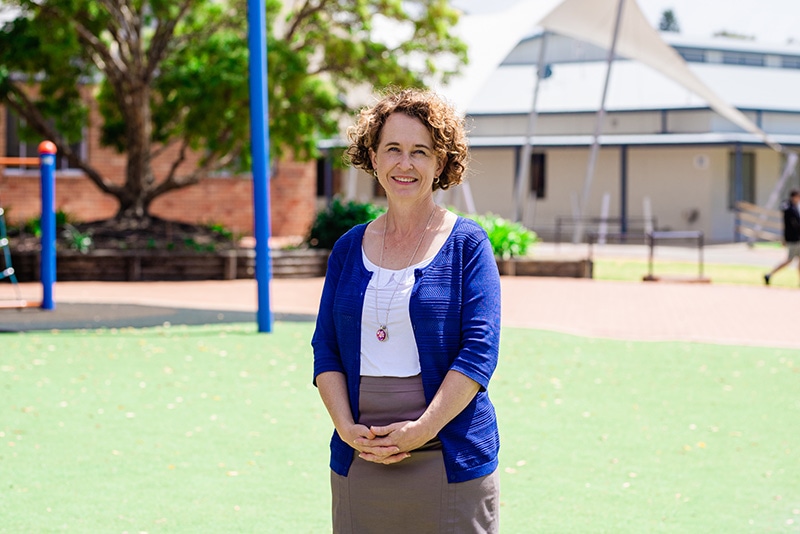 Mrs Leisa McDonald
Bachelor Of Education
What is Mrs McDonald's favourite part about teaching Kindergarten?
"I love to see the wonder and enthusiasm of students for learning about the world with which God has blessed us. Getting to know each student and celebrating their achievements is a special part of each day."
What does Mrs McDonald like to do in her spare time?
"In my spare time I enjoy reading, walking, checking out weekend markets and learning crafts such as macramé."
From our College Principal, Ms. Sharon Sopher
It is my privilege to welcome you and your family to Belmont Christian College.
Under God, our College exists to support you, as parents, in the education of your children. There is a famous scripture from the book of Proverbs that reads:
Train up a child in the way they should go; and when they are old, they will not depart from it. Proverbs 22:6
As you journey with us at BCC, know that our teachers are primarily here, by your side, to support and train your children into becoming active servants of the Lord, not better citizens. What a privilege it is to prepare our youth for God's work.
As College Principal, I recognise that starting Kindergarten is a new adventure, not only for your child, but for Mum and Dad too. We are so thankful that you are here.
Please know that our prayerful commitment is that your child will be loved and known by name. As a College, we are here for every single learner, and that includes your precious little one.
This first year will be filled with many wonderful memories and learning experiences that will form a strong foundation for the years ahead.
We look forward to welcoming you into our College community and partnering alongside you in 2021 and beyond.
Interested in finding out more?
Frequently Asked Questions
What is Kindergarten like at Belmont Christian College?
At Belmont Christian College, our Kindergarten classes are safe, warm and engaging places where children flourish in their learning. Our classrooms are bright and happy places that help to bridge the gap between home and school. Our teachers are passionate and work hard to create environments that are conducive to growing and learning. This environment assists each child to reach their God-given potential in the important first years of education.
What can my child expect on his or her first day of Kindergarten?
To ensure all children feel comfortable, we have a staggered start on our first day. Families will be given an arrival time and this ensures that your child's teacher can greet the family personally and help them unpack and get settled into an activity. Our first day is gentle, warm and welcoming with many fun activities planned, including activities to help the children settle into the new routines. Extra staff are rostered on Kindergarten, ensuring there are plenty of welcoming adults in the case of separation anxiety. Parents are then welcome to gather for morning tea to chat and share with each other as their little ones start their first day of school. The day will fly by for both children and parents, with an early pick up scheduled to ensure a successful and happy day.
What will my child learn in Kindergarten?
We have a comprehensive approach to Literacy in the early years. We use a program called LEM phonics where the children learn the sounds that are in the English language before blending them together to read words. This intensive but very successful program will see your child achieve success in their literacy learning. Numeracy is our other main focus where we love using hands on, fun activities to help the children learn all about number and other mathematical concepts. Our timetable also involves time spent on Science, History, Geography, Visual Arts and Health.
The children will also be taught by our specialty teachers for Physical Education (PE), Dance and Drama and Music. We also go to the library each week to engage in literacy and Science, Technology, Engineering and Mathematics (STEM) activities.
Will my child's progress be regularly assessed, and if so, how?
Students are assessed regularly throughout the year by their classroom teacher. All assessment in Kindergarten is undertaken individually, with the form of assessment dependent upon the subject and content involved. Assessment often takes the form of oral/aural, observations, work samples and performance. Where possible, adjustments are made for individual students to allow them to convey their understanding and knowledge to the best of their ability when being assessed.
Does my child get weekly homework?
In Terms 1 and 2 we find it very beneficial for our children to revise their newly learnt sounds and sight words at home to help them gain mastery and confidence. In Terms 3 and 4, Kindergarten will be learning spelling words which we ask you to practise with them at home. Our Kindergarten Home Reading Program is tailored to your child's developmental and individual learning needs throughout the year.
Is there an orientation program for Kindergarten?
The College has developed a comprehensive Orientation Program to ensure that your child feels secure and confident, as well as excited to begin Kindergarten. We run a parent Information Evening to ensure all questions are answered for parents, and this includes information specifically about Kindergarten, as well as the whole College.
Due to current COVID restrictions, this Information Evening will occur virtually on Wednesday 14th October, 2020 from 6pm to 7pm. We then have three Orientation Mornings for the children, where they will spend time in the Kindergarten classroom alongside Kindergarten teachers. In 2020, these three dates are:
1. Thursday 22 October – 9:00am-10:30am
2. Monday 2 November – 9:00am-10:30am
3. Tuesday 17 November – 9:00am-10:30am
They will meet their new peers and engage in some fun games and activities that will help them feel safe and secure in the new environment. Our aim is that at the end of the Orientation Program, the children feel happy and excited and cannot wait to return the following year.
Partnering with you
Communication between your family and the College forms a crucial part of the education journey.
Interested in finding out more?